Robin Robins Show Offer! Printers/Copiers & SEO Services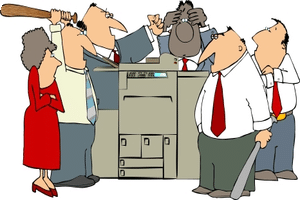 Do You Hate Printers and Copiers?  
You hate copiers, we don't.  We aren't interested in offering Managed IT –  We can help you offer copiers and printers to your customers without being concerned about losing your managed services contract!
Manufacturers are getting into the game of trying to manage your customer's network.  Copier companies are trying to build managed services division.  We aren't looking to engage your clients on Managed Services and we can help keep other copier companies out of your client base while you make money!
The basics – 5% of the hardware costs (a $5,000 copier would get you $250 up front) and 10% of the Monthly Contract!
Most copier companies want to sell Managed IT.  We Don't.  We don't want to be in the Managed Services business.  Our expertise is 2 things.  Copiers (printers) and SEO.  We don't get away from these 2 core areas!
What's in it for you?  Resellers-Flyer_updated
We provide code that you can put on your site, like this, we do the rest.
WE CAN EVEN GET SERVICE FOR MOST LASER PRINTERS – EVEN IF THEY ALREADY OWN THEM!
Examples of Copier Companies trying to get your managed services business:
Even Local Copier Companies are trying too…
The sites are endless….
Widget Example – Our widget is built specifically for your company, so you can put your own widget (we enter your details and give you a link or embed code to place on your site) – Every lead that comes in, we both get a copy of and we begin to work on the opportunity.  If something sells, you get a check!  You can always look at their invoices to ensure you are getting the residual 10% too!
Our goal with this program is not to make you rich selling copiers, but to give you a way to protect your client base while getting paid all while not needing to know everything about copiers and printers (we'll be your copier guy).
Call me us at   (303) 810-2382  –   Jesse Harwell  —  [email protected]

SEO Services
Search Engine Optimization is another service we provide.  The basics of this program is we work with you and your client to find terms that they would like to rank well for and then build a strategy which will help their site rank better and thereby gain more business.  Our services include finding good link partners, writing quality content and ensuring the site is set up for success.
We pay 15% of the monthly contract to anyone who uses these services.
Call me us at   (303) 810-2382  –   Jesse Harwell    — [email protected]