October 31, 2021
/
/
Comments Off

on The XEROX COLOR EC70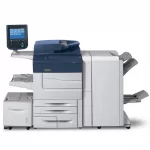 We make it easy to find the right copier in Denver with our many options. If you want to buy or lease a copier, then you do not have to look further than Xerox Color EC70. In addition to making copies of documents, you can use this copier to print, scan, fax and email.
The Xerox Color EC70 can print up to 75 pages per minute. That is why it is equipped to meet the demands of a busy office. You can use this copier to print up to 50,000 pages per month. There are several types of businesses that will benefit from using the Xerox Color EC70. This includes construction companies, graphic design companies and photography businesses.
This is a sustainable device. It comes with an Energy Star label, which means that it has features that can conserve energy. There are also supplies and accessories that you can use along with the Xerox Color EC70. You can use the Xerox Genuine ink and toner along with this copier. This ink will ensure that you have quality prints.
Furthermore, there are software and solutions that you can use with the Xerox Color EC70. You can use the Xerox Docushare. This makes it easy for you to share documents with other people.
You can also use the Equitrac Office. You can use this to manage all of the features on your device. The iXWare Online Fax Service is something else that you can use. It combines the features of walk-up fax integration and electronic faxing. You will have a fax solution that meets all of your needs.
The Xerox Color EC70 is up-to-date with the latest technology. Additionally, this only requires a low investment on your part and you can get pre-paid fax credits to offset costs.