The Xerox Versalink B405 B&W MFP
November 19, 2021
/
/
Comments Off

on The Xerox Versalink B405 B&W MFP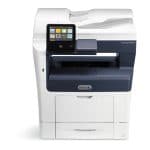 The Xerox Versalink B405 will meet the needs of your office. It is a popular choice among people in Denver who need copiers. You can use this copier to scan, fax, email and print. You can also upload things to the cloud. This copier works best for teams that range from three to 15 people.
One of the reasons that the Xerox Versanlink B405 is a great copier to lease or buy is because it has the ability to print quickly. In fact, it can print 47 pages per minute. It can also print up to 15,000 pages per month.
It can connect to Ethernet and Wi-Fi. You can also use Wi-Fi direct, which allows your device to connect to other devices. There are risks any time that are associated with connecting to the internet. However, this copier has many features that will help you do so securely.
The state-of-the-art technology features are designed to detect and prevent security issues. These features can prevent malware attacks as well as limit who can access the copier.
The security features are constantly monitoring your device for potential threats. It can send alerts when harmful changes have been detected. This will automatically prevent your device from being harmed by malicious programs.
The ease of use is another thing that makes the Versalink B4505 Copier a good choice. If you can use a smartphone, then you probably won't have any problem using this copier. It has an interface that is similar to that of a tablet. You can also refer to the user's manuals.
The output of the copier is black and white. The paper size is letter. Additionally, this copier has an Energy Star rating.