The Xerox VersaLink B605: A New Standard in Workgroup Productivity
October 26, 2021
/
/
Comments Off

on The Xerox VersaLink B605: A New Standard in Workgroup Productivity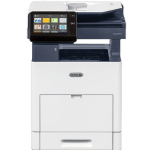 The Xerox Versalink B605 is a great choice for people in Denver who want to lease or buy copiers. This is a black and white all-in-one printer. It is best suited for people who work in groups of 8 to 15. It is also ideal for 12 to 20 users. There are several printing and finishing options. You even have the option of choosing two-sided printed.
There are many benefits that comes along with using two-sided printed. You will be able to use less paper, which can help you save a lot of money. Saving paper is also good for the environment. Speed is another benefit. The Xerox Versalink B605 will be able to complete duplex printing in a short amount of time. Additionally, duplex printing is efficient. It allows you to get more work done in less time.
The Xerox Versalink B605 comes with Wi-Fi and Wi-Fi direct. Wi-Fi direct allows two devices to connect without the need for an intermediary internet connection, router or wireless access point. It will be easier for you to transfer data.
The Xerox Versalink B605 has ConnectKey Technology. This technology allows you to manage your printing service. You can also print, manage and scan the information to a cloud. The Xerox App gallery will allow you to delete, add and swap the tools that are in the gallery. Additionally, it allows you to access your Onedrive, Google Drive and Dropbox.
You may need to get your Xerox Versalink B605 repaired while you are leasing it. You can easily do that with the Xerox econcierge. You don't have to worry about signing a contract. You just have to sign up for it. You can get the service that you need for your printer for free. It is also easy for you to order your supplies.