The Xerox Versalink C505: A Color Printer for the Small to Medium Office
October 28, 2021
/
/
Comments Off

on The Xerox Versalink C505: A Color Printer for the Small to Medium Office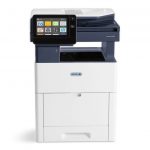 The Xerox Versalink C505 is a great choice for people in Denver who need a copier. It doesn't matter if you want to buy it or lease it. These copiers are designed to meet your office needs. This copier is ideal for groups that have anywhere from 5 to 15 people. It has the ability to print up to 45 pages per minute, so this is great for busy offices.
Two-sided printed is also available. You can save money because you will be able to conserve paper. Conserving paper is also good for the environment. Additionally, two-sided printing allows you to work more efficiently. You can connect the Xerox Versalink C505 to the Wi-Fi. If there is no Wi-Fi available, then you can use Wi-Fi direct. Wi-Fi direct allows two devices to connect directly to each other without any Wi-Fi.
You can use color printing with this device. Color printing captures the reader and makes it easier for you to get your message across. It also makes the message that you are trying to convey more memorable. Furthermore, color printing can increase your brand recognition.
The Xerox Versalink C505 comes with Xerox ConnectKey Technology. This will transform the way that you work. It will be easier for you to solve problems and take on new challenges. You can optimize your device and manage it remotely. There are also built-in tools that you can use.
You can rest assured that you can securely use the Xerox Versalink C505. It has a Trust ConnectKey comprehensive security system. Your materials will be kept confidential. Another reason that this copier is a great option for leasing is because it has customized apps. You have the ability to add, swap and delete apps in order to fix your needs.