Xerox Docutech 6180 Production Publisher Overview
February 13, 2017
/
/
Comments Off

on Xerox Docutech 6180 Production Publisher Overview
Editor's Note:  We are not authorized on this machine, a few of our business partners can help, we would be happy to connect you, but Xerox has not authorized Pahoda Image Products on this line of copiers.  This is for informational purposes.
There's nothing worse than having a huge job you need to complete but not having the technology to complete the job. Situations like that will almost never happen with the Xerox DocuTech 6180 Production Publisher. The Xerox DocuTech 6180 Production Publisher is the original machine that sparked the print-on-demand, digital production printing industry.
The DocuTech 6180 Production Publisher is able to handle multiple jobs at once, so you can print more, faster than ever before. This upgradable machine means that you can do even more complex jobs than ever before. There is an optional 3 Tray Interposer that will expand your print capabilities even more than ever before.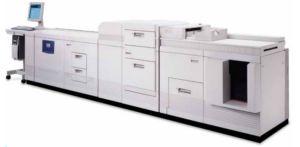 With a E7400 duo core 2.8 Ghz processor and 2GB of memory, this powerful production publisher will be sure to handle any job you need done. The Xerox DocuTech 6180 is powerful and versatile enough to handle the most complicated jobs. With the standard interposer there are 5 input paper tray with auto tray switching and document inserts. This opens up a world of possibility in what you can accomplish in a short period of time.
The Xerox DocuTech 6180 is truly the one of the biggest and fastest printers on the market. With print speeds of up to a whopping 180 prints per minute, there are few jobs you won't be able to accomplish in a timely matter.
Do not hesitate if you need the Xerox DocuTech 6180 in your office. Call Denver Copier today to get yourself setup with the best production publisher on the market.