Used Copier Inventory List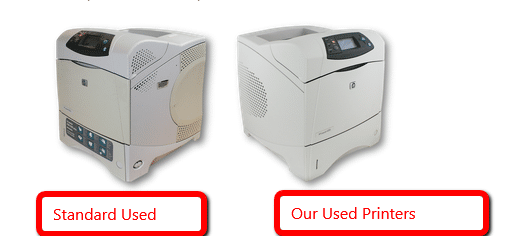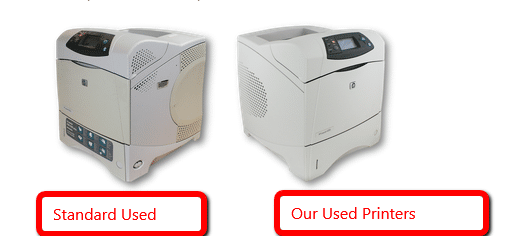 If you are looking for a used copier or a used laser printer in Denver, we have factory refurbished copiers available for you! We have Used HP Printers and MFP's super cheap with up to a 3 year onsite warranty. The used printers we sell are not what you would find on Craigslist, they are rebuilt by a printer manufacturer replacing the worn out parts so that the printers and copiers look and perform like new! The prices below allow you get the printers with a 3 year warranty. We can also sell you all the toner you will need so it can be one transaction. The HP ColorLaserjet was about $5000 new, you can get the printer with a 3 year warranty, including a kit at half the price of a new printer with a 1 year warranty.
In the chart below, you simply add the installation with the 3 year service and the printer to get the total cost. If you don't want the service or the install, that can be removed.
| | | | |
| --- | --- | --- | --- |
| Model | Installation Charge | 3y NBD onsite cost w/kit included | Printer Cost |
| HP 2430DN (Printer) | $ 125.00 | $ 275.00 | $ 349.00 |
| HP P2055DN (Printer) | $ 125.00 | $ 275.00 | $ 349.00 |
| HP 4250N (Printer) | $ 125.00 | $ 600.00 | $ 449.00 |
| HP P4015N (Printer) | $ 125.00 | $ 600.00 | $ 799.00 |
| HP 4350N (Printer) | $ 125.00 | $ 600.00 | $ 499.00 |
| HP 4515N (Printer) | $ 175.00 | $ 600.00 | $ 999.00 |
| HP M3035XS MFP (CB415A-R) (Copier) | $ 195.00 | $ 750.00 | $ 899.00 |
| HP M4345XS MFP (Copier) | $ 195.00 | $ 1,200.00 | $ 1,699.00 |
| HP M9050 MFP (Copier) | $ 195.00 | $ 2,600.00 | $ 2,999.00 |
| HP CP3505DN (Color Printer) | $ 125.00 | $ 750.00 | $ 549.00 |
| HP 4700DN (Color Printer) | $ 195.00 | $ 900.00 | $ 599.00 |
| HP 5550DN (11 X 17 Color Printer) | $ 195.00 | $ 1,800.00 | $ 849.00 |
Product part #
Qty. in Stock
Sale Price
New ERP
Description
3210U_N
17
$275.00
$399.00
REFURBISHED: WORKCENTRE 3210, COPY/PRINT/COLOR SCAN/FAX, UP TO 24 PPM B&W, LTR/LGL/A4, UP TO 1200 ENHANCED, 50-SHEET ADF,250-SHEET PAPER TRAY,1-SHEET MPT, 150-SHEET OUTPUT TRAY,128 MB, USB/ETHERNET, PCL,SCAN S/W, 110V (90 DAY WARRANTY)
3220U_DN
14
$350.00
$499.00
REFURBISHED: WORKCENTRE 3220,COPY/PRINT/COLOR SCAN/FAX, UP TO 30PPM B&W,LTR/LGL/A4,UP TO 1200X1200 ENHANCED,50-SHEET ADF, 250-SHEET PAPER TRAY, 1-SHEET MPT, 150-SHEET OUTPUT TRAY,128 MB,AUTO 2-SIDED OUTPUT,USB/ETHERNET,PCL/PS3, SCAN S/W.
3300MFPU_X
Out of Stock
NA
$599.00
REFURBISHED: PHASER 3300MFPX,PRINT/COPY/COLOR SCAN/FAX.B&W, 30 PPM,1200 IMAGE QUALITY,50-SHEET ADF,250-SHEET PAPER TRAY,50-SHEET MULTIPURPOSE TRAY,150-SHEET OUTPUT TRAY,96MB MEMORY,AUTOMATIC 2-SIDED PRINTING,USB/ETHERNET,PCL/PS3,SCANNING
3315U_DN
12
$350.00
$449.00
REFURBISHED; WORKCENTRE 3315/DN BLACK AND WHITE MFP, PRINT/COPY/SCAN/FAX/EMAIL,UP TO 33PPM,LETTER/LEGAL USB/ETHERNET, 1200X1200DPI, POSTSCRIPT3/PC16,250-SHEET TRAY,50 SHEET ADF,50 SHEET MULTI PURPOSE TRAY,AUTO 2 SIDED OUTPUT,110V
3325U_DNI
10
$550.00
$1,099.00
REFURBISHED: WORKCENTRE 3550, 35PPM MONO, 2-SIDED PRINT, COPY, SCAN AND FAX, 1X500 SHEET TRAY (110V)
3550U_X
Out of Stock
NA
$1,099.00
REFURBISHED: WORKCENTRE 3550, 35PPM MONO, 2-SIDED PRINT, COPY, SCAN AND FAX, 1X500 SHEET TRAY (110V)
3600U_N
7
$400.00
$649.00
REFURBISHED: PHASER 3600N; 40PPM, PS3,128MB MEMORY NETWORK PRINT, 110V (90 DAY WARRANTY)
3635MFPU_S
57
$850.00
$1,799.00
REFURBISHED: PHASER 3635MFP, 35PPM, NETWORK PRINT, COPY, SCAN, 110V (90 DAY WARRANTY).
3635MFPU_X
Out of Stock
NA
$2,099.00
REFURBISHED: PHASER 3635MFP, 35PPM, NETWORK PRINT, COPY, SCAN, PARALLEL FAX,CONV. STAPLER, 110V (90 DAY WARRANTY).
4118PU_
6
$425.00
$799.00
REFURBISHED: WORKCENTRE 4118P; 18PPM COPIER PRINTER WITH 550 SHEET PAPER TRAY, 100 SHEET BYPASS, PARALLEL AND USB, 110V (90 DAY ONSITE WARRANTY FROM DATE OF SHIPMENT)
4118XU_
6
$650.00
$1,199.00
REFURBISHED: WORKCENTRE 4118X; 18PPM COPIER PRINTER WITH FAX, COLOR SCAN, 40 SHEET ADF, 550 SHEET PAPER TRAY, 100 SHEET BYPASS, PARALLEL AND USB, 110V (90 DAY ONSITE WARRANTY FROM DATE OF SHIPMENT)
4250U_S
5
NA
$2,499.00
REFURBISHED: WORKCENTRE 4250, 45PPM, MONO, COPIER/PRINTER/SCANNER, 110V (90 DAY WARRANTY)
4260U_S
1
NA
$2,999.00
REFURBISHED: WORKCENTRE 4260 55 PPM MONO PRINTER/COPIER/SCANNER, NETWORK, 110V
4500U_N
Out of Stock
NA
$999.00
REFURBISHED: PHASER 4500 110V MONO LASER PRINTER (90 DAY ONSITE WARRANTY FROM DATE OF SHIPMENT)
4510U_N
Out of Stock
NA
$999.00
REFURBISHED: PHASER 4510 LASER PRINTER, 45 PPM, 1200 DPI, 128MB MEMORY, ETHERNET, PARALLEL, USB, 1X550 LETTER/LEGAL INPUT TRAY, 110V (90 DAY WARRANTY FROM SHIP DATE)
4600U_N
3
$800.00
$1,149.00
REFURBISHED: PHASER 4600 LASER PRINTER, 55PPM, NETWORK, 1X550 SHEET INPUT TRAY, 110V
4600U_DN
2
$850.00
$1,349.00
REFURBISHED: PHASER 4600 LASER PRINTER, 55PPM, NETWORK, 1X550 SHEET INPUT TRAY, AUTOMATIC TWO-SIDED PRINTING, 110V
4620U_DN
1
NA
$1,649.00
REFURBISHED: PHASER 4620 LASER PRINTER, 65PPM, NETWORK, 1X550 SHEET INPUT TRAY, AUTOMATIC TWO-SIDED PRINTING, 110V (90 DAY WARRANTY)
5500U_N
Out of Stock
NA
$2,999.00
REFURBISHED: PHASER 5500 110V MONO LASER PRINTER (90 DAY ONSITE WARRANTY FROM DATE OF SHIPMENT)
5550U_N
1
NA
$2,299.00
REFURBISHED: PHASER 5550 LASER PRINTER, 50 PPM, 1200 X 1200 DPI, 256MB MEMORY, 100 SHEET MPT, 2 X 500 A3 PAPER TRAYS, USB/PARALLEL, 110V (90 DAY WARRANTY).
FC2218U
12
$600.00
$1,799.00
REFURBISHED: FAXCENTRE 2218, 18 PPM FAX DEVICE, 50 SHEET AUTOMATIC DOCUMENT FEEDER, 550 SHEET INPUT TRAY (90 DAY WARRANTY FROM SHIP DATE)
Sale Prices listed are available until September 30th 2013
Xerox Monochrome Refurbished Products Pricing & Availability
Prices and availability are subject to change at any time. Refurbished products are fully tested to meet Xerox factory standards and come with a 90-day manufacturer's warranty. Extended warranty coverage may be purchased from Xerox. Refurbished products are shipped in new boxes and all consumables will have at least 50% of life remaining unless otherwise noted. ALL MONOCHROME PRODUCTS COME WITH NEW DRUM AND/OR TONER CARTRIDGES!
Product part #
Qty. in Stock
Sale Price
New ERP
Description
6180U_DN
2
$500.00
$749.00
REFURBISHED: PHASER 6180 COLOR LASER PRINTER: 20 PPM COLOR, 26 PPM B&W, INCLUDES NETWORKING, 400MHZ PROCESSOR, 128MB DDR2 MEMORY, 600 DPI, 110 VOLT, 2-SIDED PRINTING (90 DAY WARRANTY FROM SHIP DATE)
6180MFPU_N
1
$600.00
$999.00
REFURBISHED: PHASER 6180MFP: 20 PPM COLOR,31PPM B&W MULTIFUNCTION PRINTER,COPY,PRINT,FAX SCAN, 400MHZ PROCESSOR,NETWORK, 110V (90 DAY WARRANTY)
6180MFPU_D
10
$650.00
$1,149.00
REFURBISHED: PHASER 6180MFP: 20 PPM COLOR,31PPM B&W MULTIFUNCTION PRINTER,COPY,PRINT,FAX SCAN, 400MHZ PROCESSOR,NETWORK, 110V , 2-SIDED AUTOMATIC PRINTING (90 DAY WARRANTY)
6280U_N
Out of Stock
NA
$549.00
REFURBISHED: PHASER 6280 COLOR LASER PRINTER: 26 PPM COLOR, 31 PPM MONO, 600X600X4 DPI, 250-SHEET PAPER TRAY, 150-SHEET MULTI-PURPOSE TRAY, 256MB, USB/ETHERNET, PSC-PCL6/53, 110V. (90 DAY WARRANTY)
6280U_DN
Out of Stock
NA
$649.00
REFURBISHED: PHASER 6280 COLOR LASER PRINTER: 26 PPM COLOR, 31 PPM MONO, 600X600X4 DPI, 250-SHEET PAPER TRAY, 150-SHEET MULTI-PURPOSE TRAY, 256MB, USB/ETHERNET, PSC-PCL6/53, DUPLEXING,110V (90 DAY WARRANTY)
6360U_DN
Out of Stock
NA
$1,599.00
REFURBISHED: PHASER 6360DN: LETTER/LEGAL SIZE COLOR PRINTER, 110V, UP TO 42PPM COLOR/B&W, 2400 DPI, 1GHZ PROCESSOR, USB AND ETHERNET I/F, 256MB MEMORY, 2-SIDED PRINTING (90 DAY WARRANTY FROM SHIP DATE)
6400U_X
1
NA
$3,999.00
REFURBISHED: WORKCENTRE 6400, 37 PPM MONO, 32 PPM COLOR, 2-SIDED PRINT, COPY, SCAN AND FAX, 1 x 500 SHEET TRAY, 110V (90 DAY WARRANTY)
6600U_N
1
$400.00
$549.00
REFURBISHED: PHASER 6600 COLOR LASER PRINTER, UP TO 36 PPM, LETTER/LEGAL, USB 2.0, 10/100/1000 BASET ETHERNET, 600 X 600 X 4 DPI (1200×1200 ENHANCED IMAGE QUALITY), PS3/PCL6, 550-SHEET PAPER TRAY 110V
6600U_DN
1
$450.00
$649.00
REFURBISHED: PHASER 6600 COLOR LASER PRINTER, UP TO 36 PPM, LETTER/LEGAL, USB 2.0, 10/100/1000 BASET ETHERNET, 600 X 600 X 4 DPI (1200×1200 ENHANCED IMAGE QUALITY), PS3/PCL6, 550-SHEET PAPER TRAY AUT0 2-SIDED OUTPUT, 110V
6605U_N
1
$650.00
$999.00
REFURBISHED: WORKCENTRE 6605 COLOR LASER MFP, PRINT/SCAN/FAX/EMAIL, UP TO 36 PPM,LETTER/LEGAL, USB 2.0, 10/100/1000 BASET ETHERNET, 600 X 600 X 4 DPI (1200 x 1200 ENHANCED IMAGE QUALITY), PS3/PCL6, 500-SHEET PAPER TRAY, 50-SHEET DADF, 110V
6605U_DN
1
$750.00
$1,099.00
REFURBISHED: WC6605 COLOR LASER MFP,PRINT/SCAN/FAX/EMAIL,UP TO 36 PPM,LETTER/LEGAL,USB 2.0, 10/100/1000 BASET ETHERNET,600X600X4 DPI (1200 x 1200 ENHANCED IMAGE QUALITY),PS3/PCL6, 550-SHEET PAPERTRAY,50-SHEET DADF,AUTO 2-SIDED OUTPUT,110V
6700U_DN
1
NA
$1,549.00
REFURBISHED: PHASER 6700DN: LETTER/LEGAL SIZE COLOR PRINTER, 110V, UP TO 47PPM COLOR/B&W, UP TO 2400 DPI, 1.25GHZ PROCESSOR, USB AND ETHERNET I/F, 1GB MEMORY, 2-SIDED PRINTING
7760U_DN
2
NA
$6,299.00
REFURBISHED: PHASER 7760DN: 12 X 18 COLOR PRINTER, 1200 DPI, 36PPM COLOR/45PPM B&W, USB AND ETHERNET, 800 MHZ PROCESSOR, 512 MB MEMORY, 2-SIDED PRINTING,40GB HD,PHASERCAL (WITH 90 DAY ONSITE WARRANTY FROM DATE OF SHIPMENT)
7800U_DN
Out of Stock
$3,100.00
$4,599.00
REFURBISHED: PHASER 7800DN; 12 X 18 COLOR PRINTER, 1200 X 2400 DPI, 45PPM COLOR/45 PPM B&W, USB AND ETHERNET, 1.33 GHz PROCESSOR, 2 GB RAM MEMORY, 2-SIDED PRINTING, 4.3 " TOUCHSCREEN, 160 GB HD, PHASERCAL, 110 VOLT
8560U_DN
3
NA
$999.00
REFURBISHED: PHASER 8560: COLOR PRINTER, 30 PPM, 2400 FINEPOINT IMAGE QUALITY, 256 MB MEMORY, ETHERNET, USB, 1X525 LETTER/LEGAL INPUT TRAY, TWO-SIDED PRINTING (90 DAY WARRANTY FROM SHIP DATE)
8560MFPU_D
1
NA
$1,999.00
REFURBISHED: PHASER 8560MFP: 30PPM COLOR MULTIFUNCTION SYSTEM,2-SIDED PRINT & SCAN,FAX,AUTO DOC FEEDER,NETWORKING,2400 FINEPOINT IMAGE QUALITY, 512MB, 40GB HD, 1X525 LETTER/LEGAL INPUT TRAY,NA PWR CORD (90 DAY WARRANTY FROM SHIP DATE)
8570U_DN
1
$550.00
$849.00
REFURBISHED: COLORQUBE 8570DN: COLOR PRINTER, 40 PPM,2400 FINEPOINT IMAGE QUALITY, 512 MB MEMORY,ETHERNET,USB, 1X525 LETTER/LEGAL INPUT TRAY, TWO-SIDED PRINTING, NA PWR CORD (90 DAY WARRANTY)
8860U_DN
Out of Stock
NA
$2,499.00
REFURBISHED: PHASER 8860: COLOR PRINTER, 30 PPM, 2400 FINEPOINT IMAGE QUALITY, 256 MB MEMORY, ETHERNET, USB, 1X525 LETTER/LEGAL INPUT TRAY, TWO-SIDED PRINTING, NA PWR CORD (90 DAY WARRANTY)
8860MFPU_D
30
$1,950.00
$3,999.00
REFURBISHED: PHASER 8860:COLOR PRINTER,30 PPM, MULTIFUNCTION SYSTEM,2-SIDED PRINT AND SCAN,FAX,50-SHT DAF,NETWORKING,2400 FINPOINT IMAGE QUALITY,512MB MEMORY,40GB HD,1X525LETTER/LEGAL INPUT TRAY,5SEAT SCAN TO PC DESKTOP,NA PWR CORD
8870U_DN
Out of Stock
NA
$2,499.00
REFURBISHED: COLORQUBE 8870DN: COLOR PRINTER, 40 PPM,2400 FINEPOINT IMAGE QUALITY, 512 MB MEMORY,ETHERNET,USB, 1X525 LETTER/LEGAL INPUT TRAY, TWO-SIDED PRINTING, NA PWR CORD
8700U_X
Out of Stock
NA
$2,799.00
REFURBISHED: COLORQUBE 8700: 44PPM COLOR MULTIFUNCTION SYSTEM, 2-SIDED PRINT, COPY, SCAN, FAX; 50-SHEET DADF; 525-SHEET TRAY; 100-SHEET MULTI-PURPOSE TRAY, EMBEDDED OCR SOFTWARE, NA PWR CORD
8900U_X
2
$2,300.00
$4,999.00
REFURBISHED:COLORQUBE 8900: 44PPM COLOR MULTIFUNCTION SYSTEM, 2-SIDED PRINT,COPY,SCAN,FAX;50-SHEET DADF; 525-SHEET TRAY;100-SHEET MULTI-PURPOSE TRAY,EMBEDDED OCR SOFTWARE,NA PWR CORD
Sale Prices listed are available until September 30th 2013
Xerox Color Refurbished Products Pricing & Availability
XEROX 3rd PARTY Confidential
Last updated on August 23rd 2013
Prices and availability are subject to change at any time. Refurbished products are fully tested to meet Xerox factory standards and come with a 90-day manufacturer's warranty. Extended warranty coverage may be purchased from Xerox. Refurbished products are shipped in new boxes and all consumables will have at least 50% of life remaining unless otherwise noted. ALL MONOCHROME PRODUCTS COME WITH NEW DRUM AND/OR TONER CARTRIDGES! All sales are Final; No Returns
Product part #
Qty. in Stock
Sale Price
New ERP
Description
097S03909U
2
$350.00
$500.00
REFURBISHED:ASM, SCANNER/DADF/CP, V54 Compatible with 8560MFP/8860MFP
097S03667U
30
$300.00
$399.00
REFURBISHED: 525 SHEET FEEDER,ADJUSTABLE UP TO LEGAL, PHASER 8400/8500/8550/8560/8860
097S04142U
Out of Stock
$200.00
$300.00
REFURBISHED: 525 SHEET FEEDER, ADJUSTABLE UP TO LEGAL, COLOR0QUBE 8570/8870
097S03636U
4
$225.00
$299.00
REFURBISHED: SOLID INK CART, W/STORAGE CAPACITY
097S03638U
2
$275.00
$399.00
REFURBISHED: 525 SHEET FEEDER, ADJUSTABLE UP TO A4/LEGAL FOR 8560MFP 8860MFP
097N01874U_
5
$180.00
$250.00
REFURBISHED: 550-SHEET TRAY MODULE FOR PHASER 4600 4620
Sale Prices listed are available until September 30th 2013
Xerox Refurbished Accessories Pricing & Availability
Product part #
Qty. in Stock
Details
Description
6180MFP_N
4
799 (NEW – 1YR)
PHASER 6180MFP/N: 20 PPM COLOUR, 31PPM BLACK & WHITE MULTIFUNCTION PRINTER, COPY, PRINT, FAX, SCAN, 400MHz PROCESSOR, NETWORK, 110V
6280_N
0
NEW 1 Year Waranty
PHASER 6280 COLOR LASER PRINTER: 26 PPM COLOR, 31 PPM MONO, 600x600x4 DPI, 250-SHEET PAPER TRAY, 150-SHEET MULTI-PURPOSE TRAY, 256MB, USB/ETHERNET, PSC-PCL6/53, 110V
3600_B
20
$225 – New
PHASER 3600B; 40 PPM,PS3,64MB MEMORY LOCAL PRINT,110V
7760U_DN, 097S03628, & 097S03631 Bundle
Limited, While supplies last
$3,400 7760 is Refurbished (90 day warranty), Lower tray and Finisher are New
REFURBISHED: PHASER 7760DN: 12 X 18 COLOR PRINTER WITH ADDITIONAL HIGH CAPACITY FEEDER, (3 ADJUSTABLE PAPER TRAYS UP TO 11 17 IN /A3, 1500 SHEET CAPACITY) & PROFESSIONAL BOOKLET MAKER FINISHER, FOLD/3 HOLE PUNCH, STACKER/STAPLER, 2000 SHEETS
7760U_DN, 097S03629, & 097S03631 Bundle
Limited, While supplies last
$3,500 7760 is Refurbished (90 day warranty), Lower tray and Finisher are New
REFURBISHED: PHASER 7760DN: 12 X 18 COLOR PRINTER WITH ADDITIONAL HIGH CAPACITY FEEDER, (ADJUSTABLE UP TO 11 X 17 IN/A3, 500 SHEET CAPACITY, LETTER/A4 CAPACITY 2000 SHEETS, 2500 SHEETS TOTAL) & PROFESSIONAL BOOKLET MAKER FINISHER, FOLD/3 HOLE PUNCH, STACKER/STAPLER, 2000 SHEETS
097S03628
Limited
$350.00
HIGH CAPACITY FEEDER, 3 ADJUSTABLE PAPER TRAYS UP TO 11 17 IN /A3, 1500 SHEET CAPACITY
097S03629
Limited
$450.00
HIGH CAPACITY FEEDER, ADJUSTABLE UP TO 11 X 17 IN/A3, 500 SHEET CAPACITY, LETTER/A4 CAPACITY 2000 SHEETS, 2500 SHEETS TOTAL
097S03631
Limited
$950.00
PROFESSIONAL BOOKLET MAKER FINISHER, FOLD/3 HOLE PUNCH, STACKER/STAPLER, 2000 SHEETS;110V
Sale Prices listed are available until September 30th 2013
Xerox Factory Outlet Specials Pricing & Availability