Xerox ColorQube 9303 Color Multifunction Printer
February 16, 2017
/
/
Comments Off

on Xerox ColorQube 9303 Color Multifunction Printer
Printing with full color intensity can be a must for businesses, but the cost can sometimes get out of control. You need a machine than can handle your print needs, while keeping cost down. The Xerox ColorQube 9303 Color Multifunction Printer is your solution for saving money, while producing great color prints.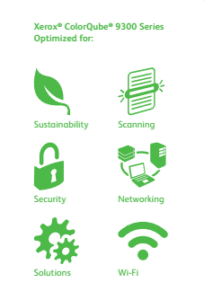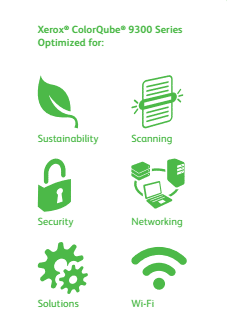 This tabloid sized, full color printer has everything to help your business save money, while still looking great. The Xerox ColorQube 9303 can produce great prints even on inexpensive office paper with Solid Ink. Solid Ink's printing process fills the gaps of your prints to create a new printing surface, delivering a more consistent dot-shape for amazing color saturation and incredible print resolution.
It also has a hybrid color plan to help you save money on your color prints. This allows you to be charged less when you use prints with only some color. Black and white is charged at one rate, while everyday colors are slightly more expensive, and expressive colors slightly more expensive than everyday colors. This means you only get charged for what you use, helping you to save money.
The Xerox ColorQube 9303 Color Multifunction Printer was also built with sustainablility in mind. Cartridge free Solid Ink produced no toner cartridges and produces up to 90% less waste than laser printers.
Call Denver Copier to find out if the Xerox ColorQube 9303 Color Multifunction Printer is right for your business.